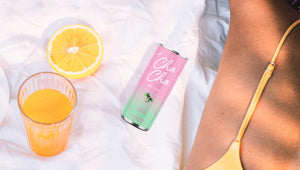 Frequently Asked Questions
FAQ
In short, our ceremonial matcha is a super-powered green tea that delivers clean, efficient energy. Packed with a high concentration of L-theanine — which regulates caffeine uptake — our matcha delivers a smooth buzz that won't leave you jittery.

Green tea is steeped, meaning it's soaked, then the leaves are discarded once the tea has infused the water. The quality of your average green tea pales in comparison to ceremonial grade matcha, and because you're removing the leaves before drinking, the nutritional value is significantly depleted.

Ceremonial matcha, on the other hand, is made from shade grown tencha tea leaves. The youngest leaves are picked — full of chlorophyll, caffeine, antioxidants, and lots of green goodness – and stone-ground to a fine powder. This powder makes its way into our beverages and baked goods.

4-6 hours of mellow, sustained energy. 100x the antioxidants of coffee per serving. Matcha is full of two antioxidants in particular — catechins and polyphenol — proven to lower blood pressure, good cholesterol, and reduce cancer risk. Offers a major metabolic boost. Immune-boosting Vitamin C. Rich in fiber and oxygenating chlorophyll. Shall we go on?

After the Emperor of Japan receives the first batch of the harvest from the preeminent grower in Uji, Japan, we stock up. It's a matcha epicenter, with a thousand-plus year history of regal leaf cultivation.

Although you can break it down even further, the two key categories are culinary and ceremonial. Culinary, as you probably guessed, is primarily for cooking/baking, where the quality of the matcha powder isn't quite as essential.

With its ceremonial grade designation, our matcha measures up to a rigorous quality standard. In a typical Japanese tea ceremony, tea masters require the highest quality matcha to maintain the integrity of the ritual — taste, color, nutritional benefits, and all. Our ceremonial grade matcha is starts with the youngest leaves from there the stems and veins removed to create a super-concentrated green powder and, of course, it's non-GMO.

There isn't a bad time to enjoy matcha ;) Because its metabolism-boosting, energizing properties last for several hours, we take ours in the early AM. Caffeine before bed is always kinda iffy, but then again, who are we to tell you what to do?
We are committed to our planet by offsetting our emissions. We offset 100% of our emissions through Climate Neutral, an independent non-profit organization. We believe this is a commitment all companies should be making, a commitment to our earth, and its inhabitants.

We contribute 1% of our profits to 1% for the Planet, an organization co-founded by Yvon Chouinard of Patagonia, that funds a wide array of environmental non-profits and related initiatives. All of our cups are 100% recyclable and compostable (in industrial facilities, not your garden, unfortunately), and our straws are entirely compostable and plant-based.
Original contains 65mg caffeine per serving. All other flavors contain 85mg of caffeine per serving.

L-theanine is an amino acid that helps regulate cortisol (the stress hormone), benefiting your mood and alertness. It slows and mediates caffeine uptake, giving you hours of clean, consistent energy.

Full ingredient list and nutritional info here.

We use honey and monk fruit, a naturally derived 0-cal sweetener. We keep it light.

Our ingredients are premium quality, sustainably sourced from the farms and producers we've worked with from the start.
You can pick up our products in any of our cafes or order online here.

Keep tabs on your order by following the tracking number in your shipping confirmation email.

We ship to the U.S., Puerto Rico, and Canada. We're working on getting Cha Cha everywhere else. Stay tuned!

We ship through various carriers including UPS, Fedex, DHL, and USPS.
We want you to love your matcha. If you're not feeling some type of way, shoot us an email help@chachamatcha.com.
Check out directions/hours here!

Instagram is the best way to keep up with the haps at Cha Cha.